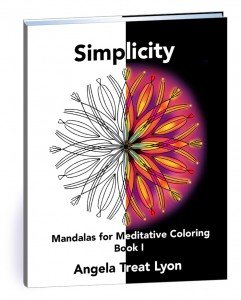 Why simplicity? Isn't that what we wish we had in our lives?
Because our lives are already so full, so crazy and so overwhelming! I created simple designs you can fill with your own color choices in your quest to calm down, quiet your mind and have a little fun time on your own.
When I create a mandala, I focus first on a feeling or a thought energy I want to convey through the design. Sometimes it feels like my fingers are being guided by a strong force. Thinking isn't part of the process—I just watch it happen. Some I delete; most of them are keepers.
Some of these 50 designs are very simple, some more complex. They are great for rank beginners all the way to experts colorists. All of the designs are hand drawn. Some of the lines are a bit wobbly? I have a slight tremor in my hand due to excess use of power tools when I carve! Oh well. It's OK – makes drawing more interesting!
Click HERE to read more and check out the sample images from the book!
.