Kailua Beach in Watercolors Art Book (print)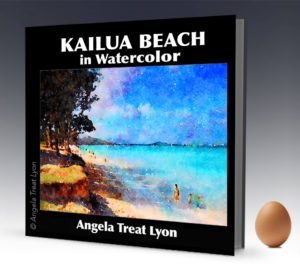 I never used to like using watercolors. They have been, to me, the hardest-to-master paint medium EVER.

But using the very intense colored inks by the Dr. Martin brand has changed that for me – I have been playing with them non-stop, making little paintings that I just love.
I was posting them on Facebook, where people were popping over them! Tell me that wouldn't make you feel good!
So I decided to make a book of the first batch, which is mostly based on photos I took of my beautiful local beach (with my iphone! So amazing to be able to get quality pix with it!).
So here it is: Kailua Beach in Watercolor.
You get 29 of the most recent, most favorite, full-color images of my watercolor paintings of Kailua Beach (and a couple of other places, also on Oahu) in this new 80-page book. It is an 8.5" x 8.5" coffee table book with a sexy-smooth velvety paperback cover! (sorry, egg not included…)
It's beautiful! It's a little bit thinner than the mockup picture here – fair warning – and it sure is fabulous!
If you want one (or two or three), CLICK HERE to get yours for just $23.95
(On amazon it is $29.95 – you save 25%!)

You know I love you!
aloha –
Angela
p.s. Why 29 and not 30 images? Because of the way the publishing system works, if I added even one more image, I'd have to add an additional $5 to the price! I wanted to keep it as low as I could – publishing color books costs a fortune! – so you could have it for less.
Here are six of the paintings from the book: