Change Your Mind! with EFT, the Basics
Yes, with Tapping You Really Can…
 Resolve the intense emotions that feel like they swamp you…
 Increase and enhance your confidence and feelings of security…
 Conquer cravings…sweets, chocolate, candy, chips…
 Re-create your body in the image you desire…
 Help your kids get great grades; stop throwing temper tantrums…
 Increase your ability to make more money, save time…
 Make a bigger difference in the world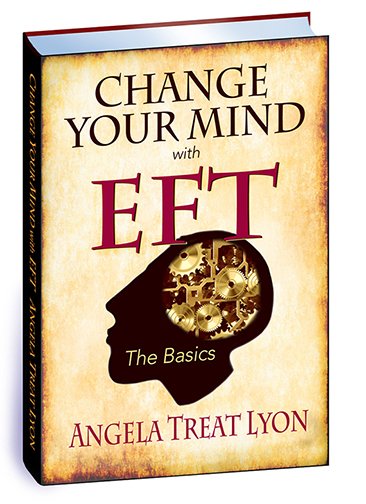 Change Your Mind! with EFT: the Basics, the internationally known and praised comprehensive manual for discovering easily and quickly how to use EFT (the Emotional Freedom Techniques). 190 pages, illustrated.
You'll discover where EFT came from, why it works and how to use it yourself – right off the bat.
Imagine finally getting the freeing results you haven't been able to find in therapy, from doctors, or using any other tool or technique….
Forget the dry, boring theory-type books out there – Change Your Mind! with EFT: the Basics is easy to understand, with illustrations of all the tapping points, tips and techniques.
You get a whole slew of example case stories so you can see how you can do what EFT Founder Gary Craig encouraged all tappers to do: try it on everything! From transforming "I'm so cold sitting here in the park" to "Wow! I'm warm all of a sudden! How'd you do that?" to shifting "My kid won't stop her tantrums," to "She adores tapping and goes to bed more easily now"… and way more.
Tap along with each case story and resolve
your own issues at the same time!
You'll be able to get resolution and/or relief about…
Avoiding impending accidents!
Eliminate your anger
Asthma relief
Reduce cravings for sweets
Depression GONE
More and better energy
Eliminate dentist pain & fear!
Husband problems
Reduce money problems
Nail biting gone
Rage resolved
Stage fright gone
Tantrums erased
Tap to help others
Remember, this is the same tool I used to completely eliminate the deep depression I had suffered from for over 35 years in just six weeks. If I can do that, why can't you resolve your pain, too?
Isn't it about time you allowed yourself to relax and be happy?
You really can do that once you learn and use EFT!
(Scroll to bottom to get Change Your Mind! the Basics in print.)
EBOOK
Change Your Mind! the Basics EBOOK – $19.99
THIS WEEK – SAVE $10


CLICK HERE

to get the Basics EFT Ebook for just $9.99
This is an Ebook you can download and have immediately. You can read it on your computer, ipad, iphone or other device. 
KINDLE BOOK
Change Your Mind! the Basics KINDLE BOOK – $9.99
Do you like to mark in your books as you read and learn like I do? Do you like to hold you books in your  lap as you sit comfortably in your favorite reading nook? If so…You can get Change Your Mind with EFT: the Basics in print, too, at Lulu.com!


WHAT PEOPLE SAY about
Change Your Mind! with EFT, the Basics:
Reviews from: Change Your Mind! with EFT: the Basics (Kindle Edition)
5.0 out of 5 stars Change Your Mind with EFT
Maria del Pilar Garibi
I liked it because it's a beautiful book, so easy to read and understand. I love the freshness and clarity of words. Congratulations, Angela!
5.0 out of 5 stars This technique could change your outlook on life
Glorybee "Gloria Daniels: "Author-Seafood…
I've heard about EFT over the years, but never really looked into it. I started reading this book right off because I had heard so much about it.
After reading about the author's success with this process and how simple this technique is, I decided to try it out. I'd been procrastinating about a project for a few weeks and really had to get it done. So this was the area I decided to try this technique on. I did a 30 minute tapping session for this problem.
I started work the next morning and worked diligently until 10AM. At that point, I realized I had actually finished the project that had been hanging over my head for weeks. I was totally amazed. I didn't start work intending to do this, it just happened without me even thinking about it. I'm a believer already, and I've done EFT only one time. I'm so glad I downloaded this book.
4.0 out of 5 stars I am a fan of EFT
Ardyth Brock
Good for you Angela. I know you have been a fan of EFT for some time now. I too am a practicing user of tapping personally and in my counseling practice. It is direct, fast and EFFECTIVE. I lIKE having your book as a reference and take-home tool.
5.0 out of 5 stars On topic, honest and engaging, there is help for all
Marion
I was engaged right from the start, and I am not new to EFT. This book has something for everyone! I am already an Angela Treat Lyon fan, but this tops it!
5.0 out of 5 stars Refreshingly Simple!
Rebecca A Messenger (formerly Rebecca Marina)
With this wonderful explanation of EFT, anyone can be using EFT within minutes to relieve anxiety,phobias and more!
I have read many books on EFT (and even co-authored one) and Angela Treat Lyon's book is superb! Highly recommended as a tool you can use forever. As Gary Craig says…Try it on everything!
5.0 out of 5 stars The Best of EFT
joyfulsunrise
I have taken part in several EFT online sessions, however, this book is tops. The author writes in earnest about her own experience in life with disturbances and solutions with this method of emotional release. She covers a multitude of situations in which she used her method. Written in easy to understand clips, you can feel release of your own concerns, even before you begin to tap.
Recently, a tragedy so great in my life with 7 of my young turtles, out of 13 total, adults, juveniles, and hatchlings, left my heart sick, replacing joy with fear. I no longer felt secure for the rest of the boxies and my ability to keep them safe. For more than 20 years I have kept a natural habitat for them and their offspring, with no ill effects. This recent experience put me over the edge in emotional trauma, left in confusion with no solution. Weakness and despair set in.
I used Ms. Lyon's method, following her honesty in presentation and results. I wasn't sure it would help me in the feeling of hopelessness I was experiencing. Yes, I know about life and nature, spiritually, but this was over the top in inability to solve the mystery of this incident. I am now able to feel peace and I will keep tapping toward recovery.
Thank you, Angela Treat Lyon, this is a remarkable book. It is a tremendous gift to all of us who read it. I am beginning to feel whole again.
4.0 out of 5 stars Great Read!
Lisa Elliott
A great read for anyone even remotely interested in EFT. I'm new to the technique; Angela Treat Lyon has made it clear and concise to understand and use. Happy with the book.
5.0 out of 5 stars Wonderful book!
Gayla
I have this book and highly recommend it. It is not a book that I sit down and read cover-to-cover. I read it like I would eat a box of fine chocolates, bite by bite. I read a section, then digest it and let it make sense in my awareness, then read a little more. Since Angela writes in sections, that is easy. She has a straightforward, empathic style that attracts me. No garbage, no fillers, just kernels of hard won truths. This book is for anyone who is remotely interested in EFT (Emotional Freedom Techniques), self-realization or self- help. It is a keeper!
5.0 out of 5 stars Change Your Mind with EFT
Cindy Cieplik
Just read the intro–fantastic! I love the way you treat the subject…openly and honestly. No woo-woo here! Wonderful contribution to the world of healing. Congratulations!! This is a must-read if you have the slightest curiosity about EFT~ and interest in real tools for real people to transform their lives.
4.0 out of 5 stars Change Your Mind with EFT
Benny
EFT is new concept for me. I'm really thankful that I came across this book because it has changed my perspective and I was also able to relate to what the author was going through. The details that the author revealed about her life are somewhat personal but it's an advantage because a lot of people have been (and are) going through the same things.
My personal favorite is Chapter 11: I Deeply and Completely Accept Myself. Now, isn't that encouraging? I still didn't fully understand EFT but I'll leave that to the experts (or veterans) and I'll just go with what I learned from this book. I think what picked up after reading is enlightening and it sparked my interest in learning more about EFT
4.0 out of 5 stars Genuine Principles
Sam Boyer
EFT strongly reminds me of many meditative practices, and the principles of inner focus and perspective-shifting are genuine principles that can really impact people's lives. The beginning starts slowly, but once you get into the meat of the book and the real information (not just the assurances that it will work!) "Change Your Mind" will likely do exactly that for you.
~ Lisa Crandall
Angela, I just started reading the book…I'm in complete AWE of all that you have experienced, the strength you have in sharing your experience with others. No doubt your experience, strength and hope will benefit others on their journeys. I just had to send a quick thank you, and let you know I truly admire you, and am so grateful that you have shared this with me, as I face a difficult emotional challenge with my dad. I can't say enough how grateful I am to you. Thank you.
5.0 out of 5 stars Great book with great info…this one is a winner
Leland D. Benton
As a behavioral scientist I am the author of similar books. EFT works and it only works if done correctly. This book shows you how to do EFT correctly. The author did a fine job in her presentation. I follow this author and she never disappoints her readers. This one is an all-star winner.