These are powerful, results-oriented, content-rich Transcripts of sessions with real people, focused on business and marketing success, how to make more money, creating financial prosperity and ease of being and doing. You'll love these.
Be a Wealth Maverick – don't put up with the conventional story you hear everywhere around money or conditioned beliefs that keep you stuck! Discover how you, too, can use tapping in order to magnify and magnetize financial security and abundance into your life.
I Was A Poor Monk in A Past Life –
eBook & Audio
Have you ever heard yourself saying, thinking or believing anything like this:
"In a past life-time, I must have been a monk. I have a hard time even relating to money. I feel like I shouldn't charge for my work or services!"
If so, this session is for you, so you can turn that around and start charging what you're really worth…without guilt or worry that you're not 'being spiritual' if you charge.  You'll realize why you felt held back, and how utterly erroneous it is, even if you were still a monk today!
CLICK HERE

to get your I Was A Monk
eBook & Audio

Easily Reach Your Goals –
eBook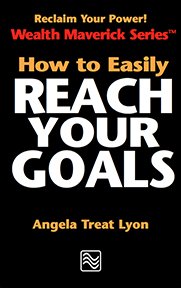 Does this sound familiar?
"I've really been struggling
I just can't seem to accomplish what I want
I feel so frustrated!
I don't know how to change this pattern!
In Reach Your Goals, I reveal to you what to do. Even if you're a HSP.
It's simple. Once you retrain your mind, you can do this one thing each and every time you feel frustrated. Tap along with us – you can use this method any time you feel "off."
CLICK HERE

to get your Easily Reach Your Goals
eBook

Get Back in the Flow –
eBook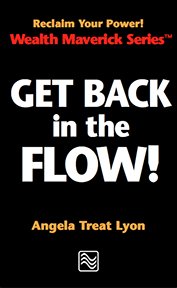 Does your business success depend upon your ability to get into and stay "in the zone," that place of calm, connected to your intuition and an ability to respond rapidly, efficiently and effectively?
If so, you'll love this Wealth Maverick transcript from a Laser-Session with "Julia," a stock trader who was worried that her tendency to "fly off" with too-many thoughts and confusion would undermine her ability to be a good trader.
I showed Julia how to get back into the flow. You can use this method any time you feel "off."
CLICK HERE to get the Get Back in the Flow –
eBook

Go from Exhausted to Excited & Inspired –
eBook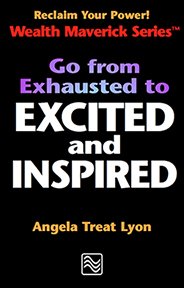 Do you alternate between days of joy, and days where you feel tons of anxiety?
Do you overeat at night when you get tired?
Are you so exhausted that you say, "I just want to go to sleep, I don't want to even think about this"?
I show you how to stop over-doing it, and stop expecting so much of yourself that you grind yourself into shreds. Tap along with me in this powerful, life-changing session – once you stop that over-doing-it habit in its tracks, you're going to make a quantum leap that you won't even believe.
CLICK HERE

to get your Excited & Inspired
eBook