Celebrating!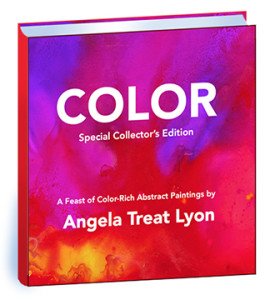 My first hard-cover collector's edition of my abstract paintings is finally out!
This is huge for me! Huge! I'm so very excited about it!
I'm adding pix of a whole bunch of pages below to let you see how I've taken the alcohol inks, which are featured in this book, in many directions.
I really hope it inspires you to do something huge – maybe something you've never thought you could do – in your own life.
The book:
COLOR: Special Collector's Edition
A Feast of Color-Rich Abstract paintings by Angela Treat Lyon
• 132 pages
• the book measures 12" x 12" and is about .75" thick
• has very thick, rich quality lustre paper
• hard-bound with black end sheets front and back
• 60 full color abstract painting images
Limited Collector's Edition
$224.99
Signed & Dedicated Limited Collector's Edition
$267.99
Contact me if you want to order one. I'm limiting the edition, so act now.
(You can click on each image to see a bigger view. Make sure to click on the back button to come back here.)