YES: How to Get What You Want!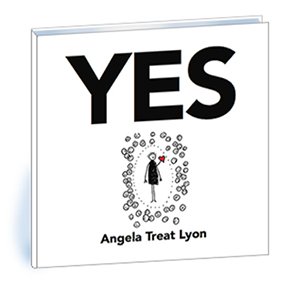 Do not be fooled by the simplicity of the content of this book! The super-minimal daily suggestions I give you have had profound effect on thousands of people worldwide.
Keep YES readily available so you can pick it up once a day and choose a random page. No matter what it is, DO what is instructed on that page.
You will get more done, more easily, and feel more successful in your life and business, and more fulfilled and happy than you ever before.
I dare you!
Delightful illustrations and simple questions and…
daily reminders of ways to think and be that will help you stay on track and keep an even mind…
a step by step process to getting out of the blues and into creating what you want
and I reveal to you the way I keep on track, myself.
YES
eBook

: instantly downloadable and printable.

81 pages, illustrated with original Angela Treat Lyon drawings.

I hope you enjoy reading and using this book!

Click on the red button to get your EBOOK for only $7.97

Get YES in
print!
Love to have your books at hand so you can underline and make notes in them? Me too!
Makes great birthday, anniversary, friendship or special dinner date giftS!
7.5″ x 7.5″, 52 pages, every page has original drawings by moi! You're going to loooooove this little book!
Get yours now – just click on the BookPatch button below now. $14.97
.