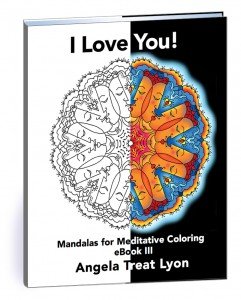 Why I love you? Well..you have to ask?
It can be so easy to get so wrapped up in life's daily chaos that you forget how much you love your friends and family and critters and the earth itself. Well, that's true for me, anyway.
But then I stop and take a breath, and smell the fragrant air, and come back to just Being Me. Then it's easy to remember how much I love my really precious friends and family, and my associates and others I know closely or not so, and whose company I'd be really unhappy without. Those connections make me happy and appreciate my life more.
What if you had a coloring book where you find all kinds of lovey images that help you remember your own personal kind of connections? I invite you to fill in all 50 of these simple, love-centered mandala designs with your own color choices in your quest to calm down, quiet your mind and have a little fun time on your own.
Click HERE to read more and check out the sample images from the book!