Are you making the right images for Etsy?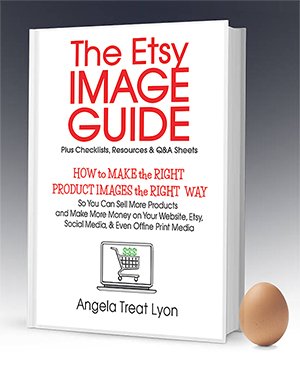 If you take photos and make images – even on your phone:
•  for Etsy or social media
•  for making prints or other print materials
•  or for your website…
… you will love how easy I make it for you to take one image file and turn it into all the files you need for all those uses.
I invite you to read more about The Etsy Image Guide Suite! Go here –
http://angelatreatlyonbooks.com/biz-marketing/the-etsy-image-guide-suite/
I show you, with full illustrations and step-by-step directions, how to make all the images you need that show your buyers exactly what they're getting.
•  Even if you don't have Photoshop
•  Even if you don't know how to make a pdf
•  Even if you don't know how to make a © mark that protects your image, but doesn't look like hell
YOU GET:
♥  The 125-page Etsy Image Guide Ebook
♥  Resource Sheets you'll want & need (most of the Resources are no-cost)
♥  Q&A Sheets with great questions asked by other artists and Etsy sellers, and…
♥  3 comprehensive How-to Checklists that help you, step-by-step, make the right images the right way for the right use so they help you sell more products & art..
Make Images that help you sell more art & products!
.