What to DO to Stop Putting Things Off! –
ebook
How often do you procrastinate and put things off?
On a daily basis? More? Less?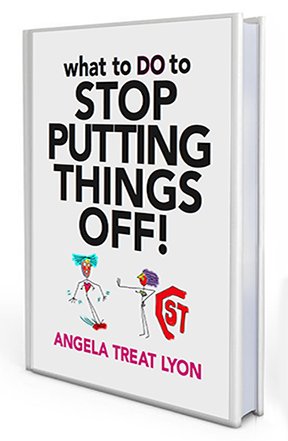 Come on – tell the truth! Here, I'll start: Yes! I put things off all the time – even putting things off until past the cutoff time! And I kick myself the whole time, even knowing I'm late. How stupid is that?
So … what do you lose when you put things off?
You miss dates, appointments, job-calls, assignments
You get late fees, fines or other punishments
You miss out on good offers that won't come again
You lose people's respect (ouch)
You lose your own respect (worse) –
I could go on. But you know exactly what you lose by procrastinating! You kick yourself every day, I bet! But do you know how to change it?
I can help you stop procrastinating!
I've been working with people for a long, long time, and have discovered that there are eight main ways people procrastinate.
There are some very simple reasons we do these things, and there are some really simple ways to stop your procrastination – forever!
Want to know what those 8 Main Ways are?
Let's say one of those Main Ways was something you do – what if you could change that one thing in your life? What would that do for you?
Want to know why you put things off?
Knowing why you put things off gives you valuable insight as to what's really going on with you. You'll now have the strength to face it, and the inspiration to change it if you want. (You do have to want to change!) Because it's never as bad as you think it might be.
Want to know what to DO about it?
Simple things to do! Way simple, and so doable you'll say, "Wow, I shoulda done this a long time ago!"
IMAGINE yourself being on time – all the time!
•  People are no longer mad at you for delaying them or their job or assignment.
•  You get paid on time, instead of late (or even not at all).
•  You stop getting nasty calls and late notices from credit card companies, banks
….and other faceless institutions who could care less about you and only want their money.
•  You get known for getting jobs for people to them on time.
•  You get known for being prompt when you have meetings, appointments and dates.
•  Your wife (hubby, kids, teachers, boss, etc.) stop bugging you!
•  You get more done than you ever have before.
•  You feel great about yourself!
You really can stop putting things off, once you find out what you're doing, why, and what to do about it!
BONUS!
I've included a really important bonus in the book: full instructions on how to do Ho'oponopono, an ancient Hawaiian healing technique.
CELEBRATE with me!
It takes really a lot to sit down, plan out, outline, flesh out, write and edit a book. Even more if you're illustrating it – there are about 20 illustrations in this book. They look simple, but each one takes about an hour to do…then you have to insert it, place it, size it…and so on.
The best thing? I always look forward to seeing people benefit from my books and their content.
So I'm celebrating getting this done – and I'm making it really easy on you to get it! Woohoo! You're saving almost 75%!
EBOOK
STOP PUTTING THINGS OFF EBOOK – $7.97 – save almost 75% – only 2.79!

for a short time ONLY!


CLICK HERE to get STOP PUTTING THINGS OFF Ebook for just $2.79
This is an Ebook you can download and have immediately. You can read it on your computer, ipad, iphone or other device. 

---
---
---
---
---
COMING SOON!
EBOOK, KINDLE & PRINT BOOKS:
STOP PUTTING THINGS OFF E-BOOK – will be $7.97
STOP PUTTING THINGS OFF KINDLE BOOK – will be $7.97

WHAT PEOPLE SAY about
STOP PUTTING THINGS OFF
Angela Treat Lyon has written on a subject that is familiar to all of us – procrastination –  but few have figured out what to do about. STOP PUTTING THINGS OFF is simple, yet full of wisdom and illustrated with wonderful drawings that captures how we feel. I found myself reading and saying to myself, "This sounds familiar! Oh, I do that too…and that…yup!" You will enjoy this book that is written for both your head and your heart.
~ DJ Ida,  Ph.D., National Asian American Pacific Islander Mental Health Association  
Angela has done it again! In STOP PUTTING THINGS OFF Angela looks at several reasons why we procrastinate and how to break out of the cycles we get stuck in. Beautifully written, concise, thoughtful, expressive and of course interspersed with wonderful illustrations, the hallmark of Angela's publications.
~ Rehana Webster, Developer & Trainer of Trauma Buster Technique, EFT Master, NLP Master, AAMET Trainer of Trainers, Au & NZ; TraumaBusterTechnique.com
"This lively dance of a book poses the world's oldest question:  "Why don't we do what we know we need to do?!" In STOP PUTTING THINGS OFF, author/artist Mindset Mastery expert Angela Treat Lyon gently takes you through the tangle of reasons behind your procrastination patterns to help you see why you do what you do, and guides you by the hand into choosing success over procrastination!"
~ Jondi Whitis, EFT Master Trainer, EFT4Results.com