The Land of Ammaze –
eBook & Print Book
I invite you to feast your eyes on the 32 images of the Land of Ammaze!
People have been trying to get me to publish these in a book for years, and I've finally done it – now you can get the Land of Ammaze in an ebook and a print book.
The print version is ready to order –  and it is beautiful!
The Land of Ammaze is a series of paintings I did right after I got a very direct, very surprising message from my 'higher self.'
When you read the book intro you'll see what the message was, how it saved my life, and how the series was born and completed.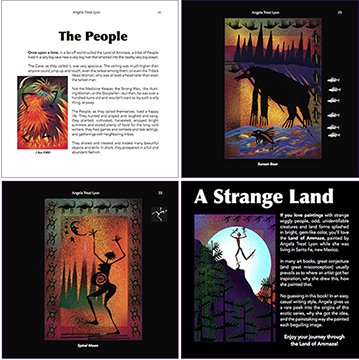 There are 32 images in the series.
Plus, I added many of the delightful black and white people, critters, trees and landscape forms like this little doggie to the right that just hopped into my mind as I created the bigger drawings for the paintings.
As in the little page samples and back cover to the left, you can see them jumping, dancing, hopping and wandering their way throughout the entire book! It's a recipe for too much fun.
.
GET The Land of Ammaze EBOOK HERE: $11.97

CLICK ON THE BUTTON BELOW to GET The Land of Ammaze PRINT BOOK: $21.97

CLICK HERE to GET greeting cards, posters, prints & giclées of these images!