#NODAPL
Which will win out: Money, Power & Greed
or Respect, Clean & Green?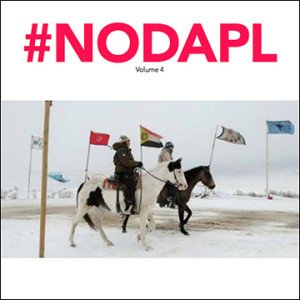 I've been following the First Nations' struggle for clean water and sacred land in Standing Rock, North Dakota for months. I began collecting the many screen shots of related Facebook posts that I was adding to my environmental action page, Artists for a Pristine Planet.
After I had collected about 500 images, I wondered what to do with them. I had a dream one night recently to put them all into 100-image ebooks, and give them away for free.
So that's what this page is for – to give them away so more people can see what's going on. Since the story is ongoing, now there are 5 volumes of these books, but there will be more!
I ask you to please share these FREE ebooks far and wide, because more people need to know about this ongoing struggle.
2000 vets have arrived and been welcomed with open arms.  On 12/5/16, a temporary reprieve was issued by the Army Corps of Engineers refusing DAPL access to the sacred land to build their pipeline, but who knows if DAPL will comply?
UPDATE: It seems the pipeline company is outright refusing to heed the orders of the Army Corps of Engineers to stop, and is going right ahead in continuing to build the line under the river. We'll see how well that works out.
To download your FREE ebooks, right-click on the book covers (or macs can use control-click), and choose add file, save as, or whatever your computer or device says.
Make sure you download them all the way to your device, because if you only open them in your browser, they will disappear once you close that browser window. I hope you enjoy seeing this story play out, and that you will join us in fighting for clean water and land protection.