Change Your Mind! with EFT, Advanced
Are you ready for some more advanced tapping?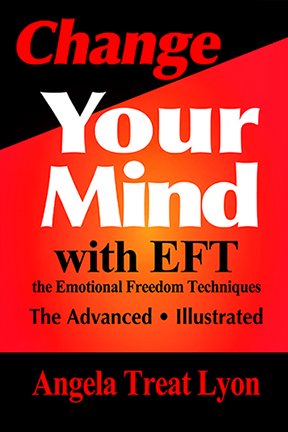 Change Your Mind! with EFT: the Advanced: the comprehensive manual of more advanced concepts, tools and techniques for deeper comprehension and faster results. 202 pages, illustrated.
Easy to understand; you'll see how to use the advanced solutions for more speed and ease; you get a plethora of case stories to tap along with; fully illustrated, with tapping points not usually shown anywhere else.
Imagine being able to tap for someone far away…and get results! It's true – I've done it, so can you.
You'll find out how, in Change Your Mind! with EFT: the Advanced.
As you tap along with each story and resolve your own issues at the same time, you'll be able to get resolution and/or relief about…
Abuse issues
Brain damage
Creating better personal boundaries
Chocolate craving!
Chronic pain
Depression
Dying-of-cancer fear
Exhaustion
Feeling old and ugly
Guilt
Psoriasis
Punishment
Rash/anger
Shame
Wanting a mate
Weight loss
Writer's block
CAN YOU USE EFT to get ready for and heal from SURGERY?
Yes! I used the advanced tapping tools, myself, to prepare for, go through and recover from not one, but two life-threatening surgeries in 2010. I recovered my health and energy in half the time the (amazed) doctors thought was 'normal' or even possible.
Know anyone who might want that, too? Maybe you? A family member? A dear friend struggling with cancer or a chronic condition? When you find out how to tap for people…even at a distance, it'll blow your mind. No more feeling powerless to help anyone!
Tapping has helped my clients feel empowered for the first time in their lives…that they had more options and opportunities than they'd ever seen or felt before. Want that, too? It's literally right at your fingertips!
Isn't it about time you allowed yourself to actually walk right into that Dream life you've wished for for so long?
You really can do that using EFT!
What are you waiting for?
EBOOK
Change Your Mind! the Advanced EBOOK – $19.99
This is an Ebook you can download and have immediately. You can read it on your computer, ipad, iphone or other device. 
PRINT BOOK
Do you like to mark in your books as you read and learn like I do? Do you like to hold you books in your  lap as you sit comfortably in your favorite reading nook? If so…You can get Change Your Mind with EFT: the Advanced in print, too, at Lulu.com!